Top 6 Best Career Options for BCA Graduates
September 12, 2022 - 10:52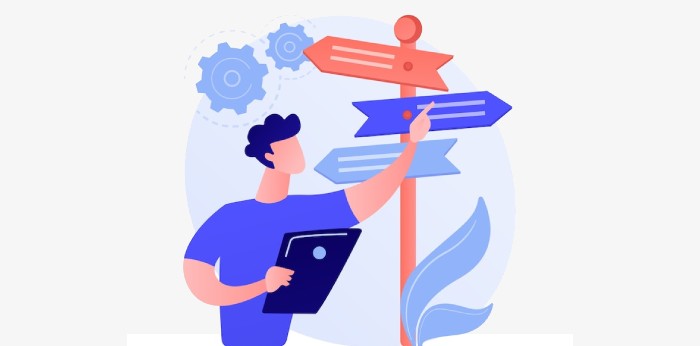 Introduction
After finishing their bachelor's degree in computer science, many students have the same question – what career should I pick? The answer is not an easy one, and it depends on what skillsets the student has and what they enjoy doing.
BCA (Bachelor of Computer Applications) is a course offered by universities in India. It is a three-year course that offers broad knowledge of computer applications and programming languages. The course's main objective is to prepare students for various careers in the field of IT, such as software development, architecture, information security, and web designing.
How to Pick a Career Path After a BCA Degree?
Suppose you're considering a career in IT. In that case, it's essential to know that the demand for programmers and software engineers is increasing significantly. So if you're thinking about getting into this field, then it would be best to get an education from a University that offers diverse options to choose from and has a wide range of research opportunities.
There are a lot of different career paths for BCA holders. The most popular one is to do programming or software engineering. Other possible careers include data science, cyber security, and computer science.
6 Best Career Path for You From a Bachelor of Computer Application (BCA) Degree?
With the rapid advancements in technology, it has become easier for people to find jobs. However, the number of job opportunities has increased. It is harder to decide what career path would be best for you. This article will give you six career paths that might be best for you based on your personal preferences or interests.
#1 Software Engineer
If you are interested in software development, this is one of the best career choices for a BCA degree holder because it offers a high salary and good growth prospects.
Software engineers are responsible for the development and maintenance of software applications. They design, develop, test and debug programs in various languages.
Annual pay rate of a Computer Software Engineer in India would be around Rs. 6 Lakhs.
#2 Software Developer
The pay scale of a Software Developer in India annually is ₹5.2 lakhs, and this career path is ranked No. 12 among the most popular careers in India.
Software development is an exciting career path. Although great effort is needed to learn the programming language, technology constantly changes and creates new opportunities. BCA degree holders can get into this field with a very competitive pay scale and a bright future.
#3 Web Developer
The demand for web developers is growing as the world wide web becomes more sophisticated and complex. There is a high demand for people who have the skills and responsibilities to design and develop online systems, apps, websites, etc.
Web developers can work in various industries, including marketing, sales, government, education & more. The pay scale of a Web Developer in India is typically ₹3.2 lakhs.
#4 Information Security Analyst
Information security analysts perform tasks related to information systems and network security, including monitoring and analyzing large amounts of data. They typically work with computers and digital devices to find and fix problems related to hardware, software, networks, email systems, databases, and Internet-connected services.
They are also responsible for keeping up with the latest security trends and developing policies to manage company assets. An Information Security Analyst takes home ₹5.8 lakhs per year at a median pay rate.
#5 Database Administrator
When you think about careers with a BCA, one of the first thoughts that come to mind would be something like being a software developer. But what if I told you there is another career option out there that can offer high pay and excellent prospects?
Database Administrator is a job that requires extensive knowledge and experience in operating databases. It can be performed with varying levels of complexity at many different levels, such as enterprise-relational, multidimensional cubes, or even key-value pairs. It is often one of the most sought-after positions in the IT industry.
The pay rate for Database Administrators varies greatly depending on experience and the company's size. Database Administrators can earn an average annual salary of ₹5.1 lakhs with a half-time workload.
#6 Network Administrator
Network administrators design, implement, monitor, manage, and maintain computer networks to help organize business data and carry out information systems. Being a network administrator is handling security with care and understanding.
The average salary of a Network Administrator in India is approximately ₹3.7 lakhs per annum.
Scope of BCA Degree
The scope of the BCA degree is expanding, and the number of courses offered by it is increasing. The course has been designed to provide a broad base for the students to choose from according to their career goals.
From Programming to Business Intelligence and Beyond
The student doesn't need to be an expert in programming languages like C, C++, Java, or Python. It requires a strong interest in business intelligence and a willingness to learn new programming languages as they progress with their career.
The program includes hands-on experience with industry-standard tools such as SAS, SQL Server, and Microsoft Excel. Students also have access to the Microsoft Azure cloud computing platform to practice applying the skills they learn on real-life projects.
From Developer to Software Engineer or Software Architect
Programming is a skill that requires learning and practice. It is not a task that can be done by one person but instead involves the support of others. The software engineer or software architect has to collaborate with other team members and work together to create an application.
The BCA degree in Computer Science prepares students for careers as software engineers or software architects, which involve creating programs and designing computer systems. With this degree, students can start their careers as programmers or IT specialists.
From IT Project Manager or IT Business Analyst
The scope of the BCA degree is vast. It can cover many areas such as project management, business analysis, data analytics, data mining, etc.
Wrap-up
The BCA degree has been a favorite among students who have found it perfect for a career in the IT industry.
BCA graduates are finding work in different sectors such as software development, IT support, web design, and management. Other typical jobs for BCA graduates include software testing and quality assurance, programming, database administration and management, information security, and risk management.
More people are opting for the BCA degree than ever before, and this trend is no coincidence. It's because its impact on today's workforce is so significant.
Amrita AHEAD's Online BCA has many advantages. Some of these include:
•We offer financial assistance to those who need it and help them get better career opportunities.
• We offer courses on diverse topics that are of current interest.
• We have a good reputation with employers who value their quality.
• The course material is updated and relevant to the market trends.
•We have a dedicated faculty of experienced teachers who know the ins and outs of professional careers.
Amrita AHEAD, the prestigious Online Degree program offering from Amrita Vishwa Vidyapeetham, strives to provide a holistic, rich learning environment for its learners supplemented by high-quality industry-aligned programs taught by world-class faculty. Some of the programs at Amrita AHEAD include Online BCA, Online MCA, and Online MBA. A complete list of programs is available at Amrita AHEAD.
Contact Us
Phone
04954266666
WhatsApp
8590240617
8799367602
8240675235
Email