6 Must-Dos Before Starting Your Online MBA Program
October 21, 2022 - 5:22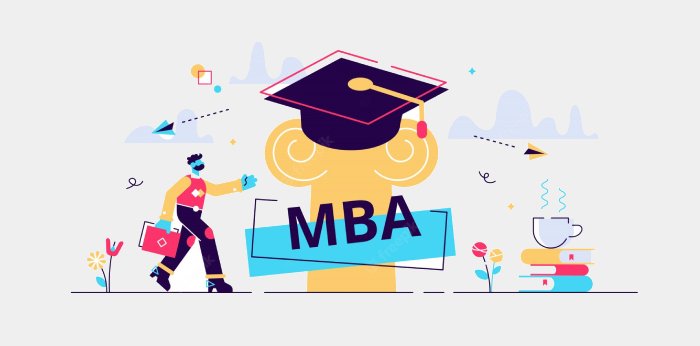 So let's get right into it—starting with a quick primer covering typical time commitment and tuition costs: at a top-ranked Online MBA Program, for example, students will spend ten to twenty hours per week for sixteen weeks for two years of study each year with tuition that costs ₹60,000 to ₹4 lakh.
MBA programs typically demand hoops to jump through to get your degree. Having the proper perspective and set of skills going into the program will make the experience much more fun and manageable than it might seem on paper.
What to Do Before Starting Your Online MBA Program
The road to your MBA starts with research.
What are you looking for from your MBA? Is network size your priority? Or do you want something you can use when you get a career in international finance or consulting?
Doing some work on what's ahead for the rest of your life can help those looking for the best school or program for their MBA.
6 Must-Dos Before Starting Your Online MBA Program
Before you start your online MBA program, there are some things you need to do. Here are six must-dos before starting an online MBA program.
1. Start Building the Right Skillset
You should think about your career goals and build the right skill set for them before you start studying for an online MBA.
1) It will help you choose the most relevant specialization for your desired career.
2) It will give you a better idea of what company culture best suits your personality and work style.
3) It will allow you to learn more about the different careers available in your desired field, which can help you decide on a specialization.
2. Set a Learning Goal for Yourself
Before joining an online MBA program, you must understand the importance of assessing your current skill set. It will also provide a guideline on what to do before joining an online MBA program.
1) Assess Your Current Knowledge Base
Before joining any course, knowing where you are in terms of knowledge and skillsets is essential. This will help you identify gaps that need to be filled. The idea is not only about filling the gaps but also about identifying your interests and skillsets that can be leveraged in your study. You can then set a learning goal for yourself based on this assessment.
2) Set Learning Goals
The next step would be setting learning goals based on your assessment of your current knowledge base and the gaps that need to be filled. Given your existing knowledge base and skill set, these goals should be realistic and achievable.
3) Research
Researching the course in question is an important step. You should also explore other courses that are related, as well as other universities offering such courses. This will help you form a clear picture of what you want to study, the course's learning outcomes, and how it relates to your skill set.
3. Get Your Finances Ready
An MBA has many benefits, but it is not for everyone. The program's cost could be a deciding factor for some people, so it is essential to know how much you will be spending on this program.
An online MBA is no different from a traditional one, and the price tag depends on what college you sign up with. For example, an online MBA from Amrita AHEAD would cost you as low as ₹55,000 per semester, with rewarding prospects like a world-class graduate management degree with internships, excellent placement, and high packages.
4. Make Sure Your Resume Is Up-To-Date
Many people are not prepared to apply for an Online MBA. They think that it is just a matter of sending in your resume. Still, there are many other things you need to do before you can walk into the admissions office or before you send in your application.
The first thing that you need to do is make sure that your resume is up-to-date and free of errors. You should also ensure that it is tailored specifically for the Online MBA program you want to apply for and reflects what they are looking for. You should also include all relevant skills, work experience, and educational background on the resume.
5. Research Programs and Schools
It would help if you started by exploring the different research programs that offer an online MBA. Please find out more about the courses they offer, their admission requirements, and their tuition fees. You can also look at graduates' career prospects after completing the program.
If you're unsure which school or program to choose, then find out what other people who have done this before think about them.
6. Create Mock Interviews
For many people, interviews are nerve-wracking, and the thought of one can cause them to panic. This is why it is essential to prepare before joining an online MBA. You can do this by creating mock interviews with a partner or on your own. This will help you get comfortable with the interview process and give you a better idea of what to expect.
Why is it Important to Prepare for Your Online MBA?
The online MBA is a great way to get ahead in your career and be more competitive in the job market. However, you have to make sure you are prepared both mentally and physically.
The first step is determining what your online MBA entails, like the course requirements, how much time you will need each week, what the prerequisites are, etc.
Another important thing when preparing for an online MBA program is time management. You must ensure you have enough time daily to dedicate yourself fully to your studies and not let anything else distract you from this goal.
What You Should Consider Before Starting Your Online MBA
The decision to pursue an MBA is a major one for most people. There are many different options to consider, and these decisions will affect your career, life, and future.
Make sure that you have the time to dedicate to the program. Online programs can be demanding and require a lot of your time and attention.
Decide what type of MBA program fits your needs, as it may not be necessary to pursue an MBA if all you want is more knowledge in a specific area of studies, such as marketing or finance.
Amrita AHEAD's Online MBA program is an excellent option for those who want to be able to study from anywhere in the world. It's also perfect for a more flexible, affordable, and accessible program.
This program will help you understand the key concepts in business theory and practice. You will learn about accounting, finance, marketing, and management. The coursework is designed with the working professional also in mind. You will learn how to apply principles, strategies, and information from the business world to your personal life.
To learn more, talk to one of our top educational consultants today.
Contact Us
Phone
04954266666
WhatsApp
8590240617
8799367602
8240675235
Email