The 5 Most Common Careers for BBA Graduates
October 1, 2022 - 2:08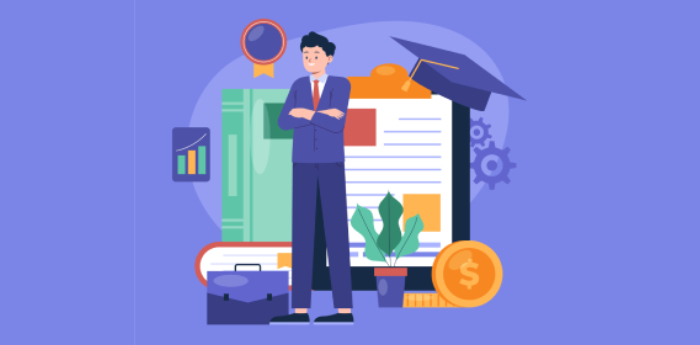 Many of us knew what we wanted to do when we were 12. But after the 12th, the choice becomes tougher! There is often more pressure on students as there is much more competition to get into reputed universities across India than 20 years ago.
With all this pressure, students feel like they should specialize in a particular field of study while earning their degree but still don't know which area(s) of interest suits them the most. What these opportunities mean for top-level jobs and their careers is what we will try and answer the question – What are the five most common occupations for BBA grads and their career path?
With a college degree from an undergraduate school in Business Administration, one can explore many career paths such as teaching, business management, and finance. Let us find out more.
What are the 5 Most Common Career Choices for BBA Graduates?
There are many career paths available for BBA graduates. Some most common careers include management consulting, finance and accounting, supply chain management, and marketing.
The five most common jobs that BBA graduates pursue are
1. Marketing and Sales
It's no surprise that marketing and sales have topped the list of the most popular careers. Professionals in this field work to increase a company's revenue by attracting new customers, developing products, and managing promotional campaigns.
For a BBA grad, marketing can help you find the perfect balance between business, science, and art. A BBA degree in marketing is a significant first step for entry-level professionals looking for a rewarding career with management opportunities. The unique blend of business, management, and mathematics provides students with the skills needed to be successful in this field.
2. Entrepreneur
By obtaining a business administration degree (BBA), you'll have the opportunity to learn about entrepreneurship, finance, marketing, and other business-related subjects. The best BBA degrees strongly focus on entrepreneurship, the foundation for many different careers in the business world. The most common job pursued by BBA graduates, primarily entrepreneurs and small-business owners, is self-employment.
Entrepreneurship is the foundation for many other careers in the business world. For example, suppose you have a BBA degree and are interested in entrepreneurship. In that case, you could open a bakery, catering business, or flower shop. You might also open your restaurant chain or start an online store that sells products to customers around the world.
3. Finance and Accounting
After completing a Business degree, many people pursue careers in finance and accounting. This booming industry offers a variety of opportunities for new graduates. There are many pathways to enter this field, such as becoming a personal financial advisor or working in the audit department at one of the Big Four accounting firms.
If you love numbers and finance, this career option may be right for you.
4. Human Resources
Human resources professionals play a crucial role in connecting the needs of employers and employees. They are in charge of recruiting, interviewing, and hiring new staff for the company. Human resource managers ensure that the workforce is productive, happy, and healthy. A BBA Degree covers Human Resources and its various aspects. HR personnel is responsible for planning, organizing, and administering the workforce. A BBA degree focussing on HR is designed to give you a comprehensive understanding of the concepts, principles, and practices that guide companies in managing their workforce. This degree also explores organizational culture, workplace safety, strategic human resource management, leadership theory, and team member relations.
5. Banker
Banking professionals have some of the best career prospects in today's job market. This is because they are in demand, skilled, and well-paid. Many people need loans and mortgages to buy homes or start businesses. Banks also deal with stocks, bonds, currencies, and commodities.
BBA graduates can pursue banking as a career after they get their degrees. Banking, as an industry, is projected to grow in the coming years, but with that growth comes more competition.
BBA Career Paths Overview
Graduates with BBA degrees have various career paths to choose from. The most common jobs pursued by graduates are accounting and finance. These careers include accounting, finance, marketing, and management.
A bachelor's of business administration (BBA) is a degree that prepares students for various careers in the business field. The most popular career paths with a BBA are accounting and finance. Additionally, these degrees provide students with the skills necessary to pursue other careers, such as marketing and management, while making them more competitive in the job market.
Pay Scale in the 5 Most Common Careers for BBA Degree Holders
Several institutions provide university placements alongside BBA courses, with a salary of around Rs 30K – 1 Lakh.
It is difficult to make a career decision without knowing the salary prospects. Let us learn about the salaries of the most common careers for business administration majors so that you can make an informed decision.
After graduating with an online MBA degree, the pay scale varies greatly depending on your field and company. The average starting salary for a BBA graduate based on their roles in India is listed below.
| | |
| --- | --- |
| Role | Average Salary per Annum |
| Marketing and Sales | ₹ 4.8 LPA |
| Entrepreneurship | ₹ 3.42 LPA |
| Finance and Accounting | ₹ 5.02 LPA |
| Human Resources | ₹ 4.14 LPA |
| Banking | ₹ 3 LPA |
Best Career Options After a BBA
The list, as mentioned earlier, is just to get you started. It does not include every possible job after a Bachelor of Business Administration degree.
The first option is to work in the industry you studied in school. Many marketing agencies will hire recent graduates with a BBA and MBA if you are interested in marketing.
Many banks and other financial institutions are more than happy to hire recent graduates with a Bachelor's degree in Business Administration, specifically if the candidate specializes in finance. They'll often offer you an entry-level position that is typically broken into two 3-year rotations. Sometimes you may find work as an accountant or business analyst even if your degree is not in that field, but it will be much easier if you have some formal training
If you studied accounting, there are definitely a few firms that will hire you with a BBA Degree.
Another option is to go back to school for another degree or certificate, or even an MBA.
Get the Most Out of Your BBA Degree and Create an Extraordinary Life for Yourself
A business career is a fulfilling way to explore the world and impact your community. Amrita AHEAD's Online BBA degree is designed to give you the skills and knowledge to do just that.
The Amrita AHEAD's Online BBA degree is the best way to create an extraordinary life for yourself. The online program has been designed with international exposure and opportunities in mind.
The program's curriculum is internationally recognized and industry-relevant, so you can be assured of getting the most out of your degree and building a successful career.
At Amrita AHEAD, we believe that education should be accessible and affordable for everyone, so we offer our Online BBA degree at a reduced price of ₹1.5 lakh per year. You can also complete your coursework on a flexible schedule without any travel or relocation costs.
You will graduate with the ability to manage people, process, and product in businesses of all sizes. And you'll have the opportunity to study abroad at one of our partner universities in Europe or Asia-Pacific as part of your coursework.
Contact us now to learn more.
Contact Us
Phone
04954266666
WhatsApp
8590240617
8799367602
8240675235
Email