MBA or MCA — Befuddled?
September 12, 2022 - 11:30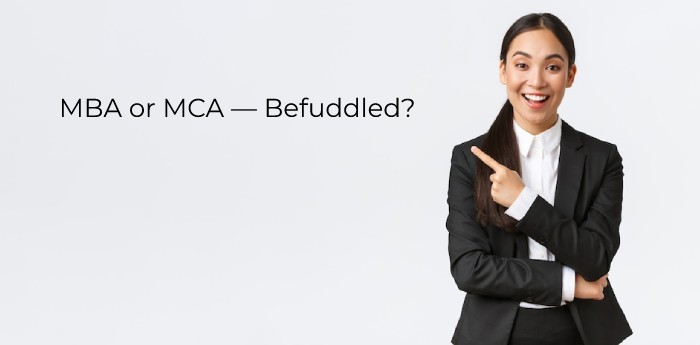 Up in the air was my nephew when I met her at one of our family gatherings recently. It was a much-awaited get-together after the cadaverous pandemic-induced restrictions were a bit relaxed. A very celebrative mood indeed, with a tinge of the usual gossiping between aunties, God knows what it could be. Beyond the typical family WhatsApp group canards, my cousin's higher education came up as a hot topic
My cousin Mahima is a brilliant student, her teachers' pet, and a common BFF for many in her social circle. She scored straight A's once she enrolled in her BCA course; she was sort of a geek too. By the time the final exams were around the corner, she was in a fix to do what next. She opted not to attend the campus placement interviews and planned to pursue a master's degree instead. Most of her friends were placed in MNCs, who were mostly mass recruiters.
It surprised me when she told me that she had not planned anything yet about post-graduation, as she used to be somebody who planned things well in advance. I asked her what the cause of the confusion was. She said, "It's rather philosophical or about passion than just about money and pressure from the family."
"Well, what is your passion then?" I asked her.
She shared some of her thoughts with me, which went like this: "Although I am kind of a techie and well into computer science topics, I would like to see myself in a top position of a company. Someday, I will start my own company, who knows. But that's not it. I want to learn more about how to drive an organization or a team and lead them to follow their goals alongside a company's business growth. And I heard that the pay scale is larger too in a managerial role, for an MBA Graduate."
A sheer platform to open up and share her thoughts was enough to decide what she wanted to do. And her thoughts kind of gave the solution to this conundrum in a nutshell.
MBA vs. MCA, which is a better option?
If you would like to stay in the IT Sector with a passion for the computer science subjects that you have learned during your bachelor's, then MCA would be an ideal choice for you. You can work your way up the corporate ladder even while continue being in your techie domain. An MCA graduate's average pay would be between 5 and 7 lakhs.
MBA is your go-to degree for somebody who wishes to see themselves in managerial roles, leadership positions, or own up a department and work on a start-up. Although the starting salaries of both the graduates are similar, the range is much higher for an MBA graduate (somewhere between 3 and 28 lakhs).
MBA and MBA Specializations
Software Analysis and Design, Web Designing, Networking, Systems Engineering—you got the feel! Yes, MCA allows you to specialize in similar fields. You can make choices based on your passion in the respective techie field during your studies. Steer your academic years wisely to opt for the domain that suits your best interest.
Finance, Marketing, Business Analysis, HR, Banking, Retail Management—that's how the specializations list goes for your MBA studies. Having a clear understanding of the management skills you might want to sharpen would come in handy. But it's not too late too. By the time you finish your first trimester, you will get a general vibe of the course. You can also decide to propel the rest of your academic trimesters accordingly.
What should one do after BCA- MBA or BCA?
That's not a tricky question to answer. It would be as simple as this. If you want to continue being a techie and earn potentially enough and beyond to pay your bills and save up, too, then MCA would be ideal. Leadership, management, start-ups, less tied to your desk— if these keywords strike the right chords in you, then MBA is your way.
Your workplace scenarios after MBA and MCA
You might find yourself in positions like HR Manager, Operations Manager, IT Project Manager, Business Development Manager, and the like after finishing your MBA.
You could be a Senior System Analyst, Technical Writer, Senior Web Developer, or Networking Engineer after MCA. The career prospects of both the programs are gratifying money-wise and career-contentment-wise.
Wind-up
You know the drill: money, passion, skills, and drive towards the goal. Mix 'em all up and see where you stand in the decision-making algorithm. I know it is better said than done. But I have personally seen BCA graduates making wise decisions and parading ahead in their career paths. Choose wisely.Amrita AHEAD, the prestigious Online Degree program offering from Amrita Vishwa Vidyapeetham, strives to provide a holistic, rich learning environment for its learners supplemented by high-quality industry-aligned programs taught by world-class faculty. Amrita AHEAD offers all three programs mentioned in this article: Online BCA, Online MCA, and Online MBA. A complete list of programs is available at Amrita AHEAD.
Contact Us
Phone
04954266666
WhatsApp
8590240617
8799367602
8240675235
Email