Is Hyper-Casual Gaming the Future of the Gaming Industry?
November 16, 2022 - 11:12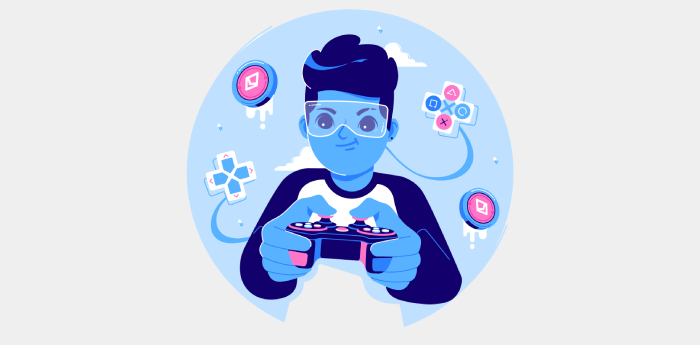 Every game genre — from blockbuster console releases to counter-culture indies — can be enjoyed on a hyper-casual level.
Two years ago, experts described the state in which casual gamers can sit down for any piece of gaming media and enjoy it
Today's booming gaming industry is becoming hyper-casual, which means that as short as one minute, players are instantly absorbed into a game with gameplay mechanics such as collectible card games (CCGs), idle games such as Cookie Clicker, RPGs, shooters, and more. Is hyper-casual gaming the future of the gaming industry? Let us explore.
Games that are Designed to Be Fun
The hyper-casual gaming industry is the fastest-growing segment in the gaming industry.
Hyper-casual games are designed for people with short attention spans who prefer playing games on their mobile phones. These games are usually straightforward, with no more than 10 minutes of gameplay. Some examples of hyper-casual games are "Flippy Knife," "Cookie Jam," and "Sushi Cat 2."
Casual games are typically played on mobile devices or computers. They can be downloaded for free or purchased at a low price and can be played as long as the player wants without restrictions. Casual gamers play these games because they don't want to commit to playing a game for hours at a time but still want to enjoy playing the game.
A typical example is Candy Crush Saga, a casual game that typically costs $0.99 or less and is played on iOS, Android, Windows Phone, Facebook, macOS, and Windows PCs. In the game, players match candies to make unique colors to be able to clear more of the playing field.
Hyper-casual Means Less Time Investment Than Regular Games
Hyper-casual games are not just less time investment than regular games but also less addictive. They are designed to be played for a few minutes at a time, making them so appealing.
The hyper-casual game market is booming and is expected to grow exponentially in the coming years. The number of downloads will increase by over 500% by 2030.
Here are some stats for nerds.
In 2020, the three most lucrative genres in mobile gaming were RPG, strategy, and puzzle, with estimated revenues of $22 billion, $15 billion, and $9 billion, respectively. DFC Intelligence estimated the total number of mobile gamers at 2.7 billion in 2021, with 1.3 billion playing on their smartphones and tablets in Eastern Asia alone.
Reasons for the change in the type of games could stem from the progress of the devices used for gaming purposes. Previously, only high-end PC users could enjoy heavy gaming on PCs and laptops. Still, even Android devices allow regular phones to use an app like Jelly Jump or Temple Run satisfactorily.
The Convergence of Interests Between the Two Types of Games
The convergence of interests between hardcore and casual games is a trend that is likely to continue for the foreseeable future.
It is important to note that two types of gamers enjoy gaming: casual gamers, who play games casually and usually have a few hours a week to spare, and hardcore gamers, who play games for hours on end.
The industry has steadily increased hyper-casual games designed with shorter timeframes. However, this does not mean that these games lack depth. They usually have just as much strategy as traditional games.
Are there Any Disadvantages of Hyper Casual Gaming?
Hyper-casual games are designed to be easy and quick to play. This makes them popular among mobile gamers. But, this ease of use also comes with a downside. For one thing, it is difficult to get a sense of accomplishment from a hyper-casual game.
There is also the issue of hyper-casual games being too simple and not providing enough choice or complexity. This can make them boring for gamers who like more complex games requiring more time and effort.
Casual Games are More Convenient Than Hardcore Ones
Although these games are characterized by simple control mechanics, low difficulty, and a short length, they make video games more accessible to new players.
This is why casual gamers often start with these video games before moving on to more difficult ones.
Fun Fact: Hyper-casual games are quick to pick up and play, with graphics designed to be 'funny' or 'cute.'
Casual games are designed to be easy and quick to play. They are usually less complex and have an intuitive interface. This is why they are more suitable for a person who doesn't have a lot of time on their hands.
Is Hyper-Casual Games Really the Future of the Gaming Industry?
The gaming industry's future differs from what players and developers have experienced. The world is spending more than 3 billion hours on games every day. This is equivalent to 29 round trips to the moon and back.
The hyper-casual gaming industry will continue to grow in the future, as it has been doing so over the past few years. With the increase in mobile gaming, more and more gamers are trading their PlayStation and Xbox for their phone. Mobile games are being downloaded in increasingly significant numbers, and developers are seeing massive profits due to this trend.
As more people learn about hyper-casual gaming, the opportunities for companies and individuals in this sector widen. The industry of hyper casual gaming is booming, and it's not showing any signs of slowing down. There is no doubt that this trend will continue to grow over the next few years.
Gain More Insight Into Game Development by Earning Your BCA Online
Game Development is a process that involves designing, implementing, and testing a video game with a team of people. The process includes creating an idea for a new video game, developing its design, creating all the artwork, programming it, play-testing it to ensure that it is fun and working correctly, and then releasing it to the public.
A Bachelor of Computer Applications (BCA) degree will introduce you to the world of game development. You will learn about the different aspects of game development and how to apply them in your games. You will also learn about the different tools and software used in game development.
Amrita AHEAD's Online BCA program provides a comprehensive understanding of computer science and the latest technology. The program will help you gain insights into game development, artificial intelligence, and robotics, among other topics.
The course is designed for individuals who are passionate about technology and have a keen interest in developing their skills in computer science. It has been designed by industry experts from Amrita to ensure you get an all-around understanding of the latest trends in computer science.
If you are looking for an institution that can give you a holistic understanding of technology and management, then Amrita AHEAD is the right choice. Talk to our top educational consultants now to learn more.
Contact Us
Phone
04954266666
WhatsApp
8590240617
8799367602
8240675235
Email