How to Plan and Succeed in Enterprise Digital Marketing
November 13, 2022 - 11:50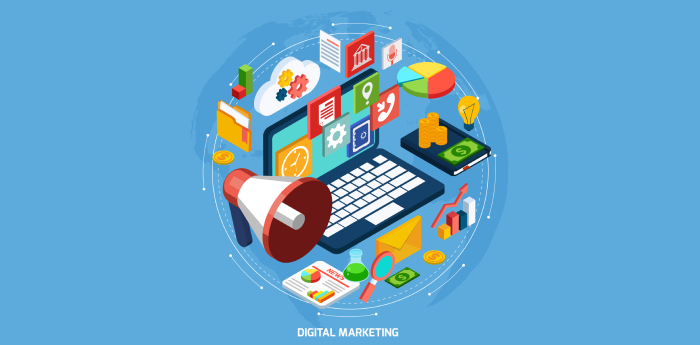 Digital marketing is the most crucial part of any business's marketing strategy. It is a broad term that encompasses all aspects of an organization's marketing activities, including its website, social media, and Email campaigns.
Let us discuss the basics of digital marketing and provide you with a step-by-step process for setting up a digital marketing strategy.
How Does Enterprise Digital Marketing Work?
Digital marketing is a vast topic that is continuously evolving. It has become an integral part of the enterprise marketing strategy. The digital marketing team has to be equipped with all the skills and knowledge to keep up with this fast-paced industry.
Enterprise digital marketing is promoting an enterprise's products or services through digital channels. Digital marketing channels are used to promote their products and services, such as social media, search engine optimization, e-mail marketing, display advertising, and mobile advertising. Enterprise digital marketing aims to drive revenue by increasing customer engagement and conversion rates while building brand awareness. Digital marketers use content to engage customers on digital channels. Content can be anything from text to images to videos.
Identifying Target Audience in Enterprise Digital Marketing Strategy
This section will identify the target audience in an enterprise digital marketing strategy.
A. The importance of identifying the target audience
Audience identification is an integral part of any marketing plan. One can only create a campaign by knowing one's target audience, yet many companies fail to do so. Understanding the audience will give the knowledge and insight to create the most successful marketing campaign possible.
B. The benefits of identifying the target audience
An organization's business strategy is useless if it does not consider the wants and needs of its target audience. The success of a campaign or product launch depends on how well a company understands the specific needs of its target audience and communicates with them in a way that will resonate with their values, beliefs, and interests.
C. The advantages of targeting an enterprise market
There are many advantages to targeting an enterprise market. For one, the customer base of enterprises is vast; there are more than 20 million enterprises in the U.S. alone, and that number is growing yearly. So it is easy to get the products in front of many people with just one successful project. Secondly, enterprises are always looking for ways to save money and increase their profits. So they are always looking for new, unusual ideas that let them do just that. Finally, enterprise customers often have deep pockets. They spend their money in various ways, making it easier to find the funding one needs to get off the ground with one's idea.
Defining Analytics Data & Timeline Goals for a Digital Marketing Strategy
To measure the success of any digital marketing strategy, one must define analytics data and timeline goals. The key is setting specific, measurable analytics data and timelines goals. One may use the following four steps to create a successful timeline:
1) Define analytics data and timeline goals
2) Determine the best period for measuring these metrics
3) Define how often one will measure these metrics
4) Set a clear starting point for measuring these metrics
Creating an Effective and ROI-driven Content Marketing Plan for Enterprises
Content marketing is a powerful tool for digital marketing agencies to create and distribute valuable and relevant content to target audiences. The critical role of content marketing is to provide value-added, high-quality, helpful, informative, and engaging content relevant to your audience. This can help enterprises to achieve their business goals and generate ROI. Many factors must be considered when creating an effective and ROI-driven content marketing plan for enterprises.
Take Away
Digital marketing is an integral part of the strategy for any enterprise. It helps build a brand, drive website traffic, and increase revenue. Digital marketing can be done in many ways, including SEO, social media, e-mail, and content marketing.
In the last couple of years, digital marketing has become an essential aspect of the success of almost any enterprise. The digital marketing industry is evolving rapidly, and it is not only about creating content and publishing it on various channels. It is about building tailor-made strategies for one's business and its needs.
Digital marketing is one of the most important aspects of every enterprise's success. With digital marketing, enterprises can reach their customers and prospects through various channels.
The business must understand the customer journey to succeed in enterprise digital marketing. The customer journey would show how each customer interacts with the enterprise before making a purchase or buying from somebody else.
Amrita AHEAD's Online MBA is a comprehensive and interactive course that educates students on planning, executing, and succeeding in enterprise digital marketing. It is developed through a case study approach that includes real-world examples of successful digital marketing campaigns.
This course is designed to help you manage enterprise digital marketing campaigns. It is a comprehensive course that will teach you the basics of digital marketing and the skills to plan and lead enterprise campaigns.
To learn more, speak with one of our top academic advisors.
Contact Us
Phone
04954266666
WhatsApp
8590240617
8799367602
8240675235
Email