How to Become a Financial Analyst in 6 SIMPLE Steps
September 12, 2022 - 12:26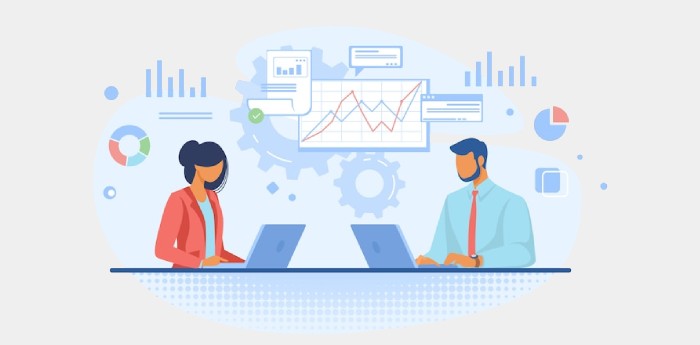 A Guide for Students and Professionals Initiating their Career in Finance
The market is going through tremendous changes. The financial analysis profession must prepare with new skills and knowledge for the future.
The 6 SIMPLE Steps To Become A Full-Time Financial Analyst
This is a direct quote from one of my close friends about her decision to become a full-time Business Analyst. I'm sure it will give you deeper insight when you pursue your MBA.
"I was a financial analyst for many years before I decided to go back to school and learn about online MBA programs. I found the online MBA program with a specialization in finance to be the best fit for me. I worked as a financial analyst for over ten years when I decided that it was time for me to take on new challenges."
The first step in convincing myself was to analyze what I was precisely looking for deeply.
The second step was researching different schools and finding one that best suited my needs.
The third step involved getting in touch with the school and asking questions about their program, curriculum, and admissions process.
The fourth step involved convincing my boss that I needed to take on this new challenge, which included explaining why this change would benefit both of us and discussing how much it would cost.
The fifth step involved deciding the timing of the change, which was best for me, considering my current and future commitments.
The sixth and final step involved filling out the application process with all of my credentials and turning it in for admission to the program.
Who is a Financial Analyst?
Financial analysts are needed for many different reasons in the workplace, including helping companies understand their finances, creating forecasts for products or services, assessing risks, and providing other strategic insights on improving business operations.
Financial analysts use their analytical skills to help businesses grow. They analyze project risks and opportunities, decide where the company should invest, and save different amounts of money.
The career path of a financial analyst is varied, and they can work in both the public and private sectors. They could also work as a consultant or be self-employed.
What are a Financial Analyst's Job Duties and Responsibilities?
Financial analysts typically work in a company's finance department, which is responsible for maintaining records and managing the company's cash flow. They also work closely with other departments like human resources, marketing, and sales to develop strategies and make recommendations on managing finances.
The job duties of a financial analyst vary depending on the company they work for and their specific role within that company.
What are the Common Job Titles for Financial Analysts?
Financial analysts typically have the following titles:
– Financial Analyst
– Quantitative Analyst
– Research Analyst
– Financial Consultant
There are many different titles that a financial analyst might have, such as those listed above. These analysts typically use statistics and data to provide insight into the financial markets and help companies make critical decisions.
What Qualifications Do Financial Analysts Need for Job Success?
In general, the financial analyst must have a work experience in finance, and an MBA in Finance is required. However, other skills can help them succeed in their job.
The job of a financial analyst entails many skills that aren't necessarily related to finance. They might be qualitative, quantitative, analytical, and even social. The analyst must understand how businesses work to succeed and make the day-to-day decisions that markets require them to make.
Qualifications for Financial Analysts:
– Work experience in finance
– MBA in Finance
– Strong quantitative skills
– Communication skills
– Ability to work with people from different backgrounds
How to Gain the Skillset You Need to Be a Successful Financial Analyst
To be a successful financial analyst, you usually need specific skills to perform your duties well. It is unlikely these are the same skills you would use outside of the finance industry.
For an industry in which communication and analytical skills are just as essential as math, it is no wonder that the financial sector is seeing more and more people with a finance degree. Many jobs are available in this field, such as private equity analysts, hedge fund managers, or investment bankers.
What are the Best Online Courses You Can Take?
It is not easy to find the best online degree programs because the market is flooded with them. The best online courses allow you to learn at your own pace and provide you with an opportunity for self-paced learning, which can be difficult if you don't know where to start looking for the right course. However, some of the most popular courses include finance courses and personal finance degree programs.
Online courses in MBA Finance have been growing in popularity. Online MBA programs offer students an opportunity to earn a full-time degree without leaving their jobs. The Online MBA program at Amrita AHEAD is one of the best online MBA programs for professionals who want to learn about finance. It's not just a little bare; it goes deep and covers vital aspects like valuation and accounting.
Learn More About Amrita AHEAD's Online MBA.
Contact Us
Phone
04954266666
WhatsApp
8590240617
8799367602
8240675235
Email